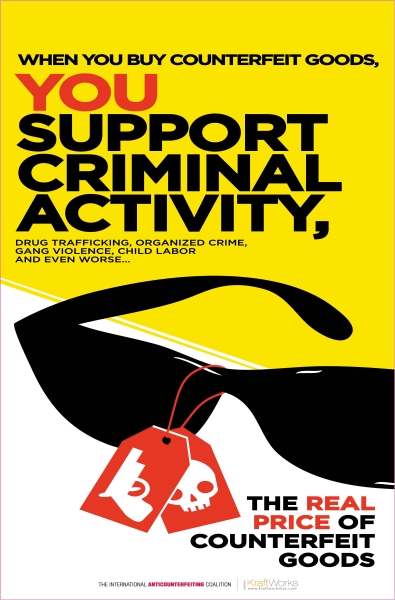 Counterfeits are goods intended to trick consumers who rely on brand names and logos when deciding what to buy. You seek out a certain brand because of the product quality or other features you have learned to expect from that brand. Counterfeiters deceive you by placing familiar brand names or logos on fake goods that are not produced by the brand owner. These goods may appear safe and legitimate, but are manufactured and sold illegally.
Counterfeit goods utilize sub-standard and dangerous components that pose a threat to the health and safety of consumers. Brand owners whose goods are knocked off are often left with a public relations nightmare when consumers are duped into believing the counterfeit, sub-standard product actually belongs to the brand owner. In the end, the defense against counterfeiters leads to increased product costs.
Counterfeits may harm your finances, health, and safety. But not only that. When you buy a counterfeit product, you support organized crime such as drug trafficking, tax fraud, child labour, and terrorism. It is estimated that more than 4 million jobs are lost due to the counterfeit goods industry.

Anti-Counterfeit Network Africa (ACN) is a Civil Society Organization which aims to bridge the intervention gaps between the multiple stakeholders that affect and are affected by counterfeits and parallel importation. Founded by behavioral change communication, marketing and legal experts, ACN is currently registered in Uganda and Kenya. Registration in Rwanda, Tanzania, Zambia, Nigeria and Ghana is on-going. As an intervention platform, ACN innovates and implements strategies to combat counterfeiting and parallel importation through some of these means:
Carrying out research, market surveys and investigations
Providing legal redress through advisory, civil and criminal actions.
Providing mindset trainings, structured dialogues and behavioral change centered communication to key sector stakeholders and the general public.
Creating awareness, championing advocacy and lobbying platforms
Developing and supplying innovative solutions and technologies that deter consumption of counterfeit products and limit parallel importation.
Solokraft is a member of ACN's advisory board and actively supports ACN's mission by providing technical expertise and creating awareness about counterfeit and sub-standard products.